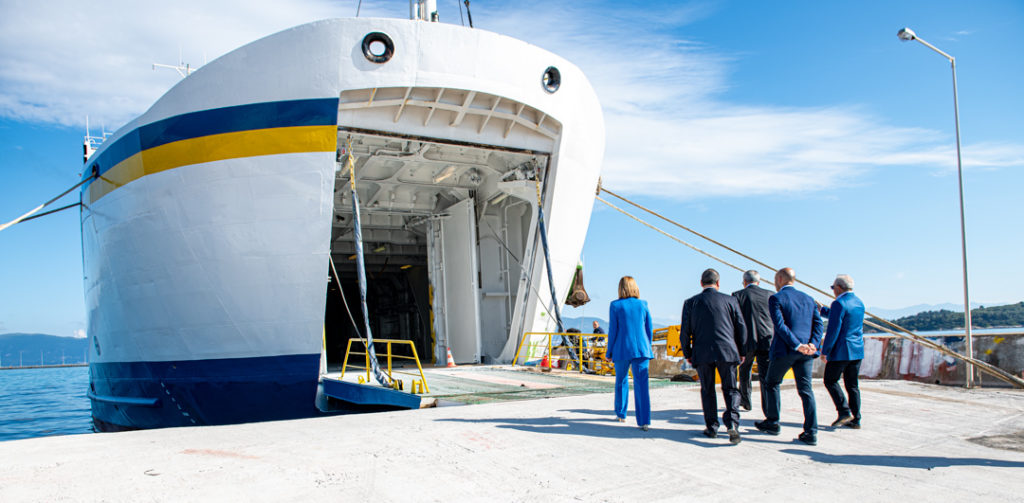 Gozo Channel to get a fourth vessel
The Gozo Channel fleet will be augmented through a fourth vessel which can carry 650 passengers and 160 vehicles.
Gozo Minister Justyne Caruana stated that with this addition of another vessel, the efficiency of Gozo Channel trips will increase for anyone crossing the channel, as the service will be operated with three vessels instead of two, and with another vessel dedicated solely for commercial vehicles and which will run on a predefined schedule.
Final touches are being put to the vessel named 'Nikolaos' in a port on the island of Corfu in Greece to fit it out in Gozo Channel livery, so that it can join the other three vessels in the fleet in the coming days, thus ensuring the service keeps up with the demand.
During an inspection visit to the vessel, Minister Justyne Caruana explained that because of an increase in demand for the Gozo Channel trips, the process was set in motion last year to add a fourth vessel. The Minister added, however, that because the 'Gaudos', 'Ta' Pinu' and 'Malita' were constructed specifically for Maltese ports, the company's technical officers faced a challenge, with the assistance of international agencies, to find a vessel suitable for both Imgarr and Cirkewwa ports.
Minister Caruana added that this vessel has been leased for a definite period, until such time as an international call is issued to lease a vesel for a longer period.
"The schedule will be operating with three vessels instead of two, and another vessel will be dedicated solely to commercial vehicles; this, in turn, will mean more efficiency, less delays, and a better service all round for anyone using the Gozo Channel vessels," Dr Caruana stated.
The Minister added that when the fourth vessel comes into service in less than a month's time, changes will also be made to the schedule, resulting in more frequent trips.
The vessel, which used to operate between Greek islands, can carry over 160 vehicles, as explained by the Director of Ionion Lines, Nick Sissanis.
"The ship accommodates 650 passengers during the summer and 350 during the winter," Sissanis pointed out.
The Gozo Minister explained that the long-term strategy for better connectivity between the islands includes a fast ferry service as soon as legal Court proceedings are concluded, whilst preparations are ongoing for the ambitious tunnel project.